We would love to share some of your stories whether they are about personal experiences on treatment, in fundraising, or anything else you would like to share. Send your stories and photos to info@candlelighters.org.uk. © Karen Turner Photography, header image.
Our
stories
Candlelighters to be supported by ...
04-05-16
•
Our stories
• Posted by
Candlelighters has been selected as one of this year's beneficiaries to receive funding and support through Global's Make Some Noise. Founded in 1976 by families and medical staff, Candlelighters continues to help su
Detectamet score a goal for Candlel...
03-05-16
•
Our stories
• Posted by
Since July 2014, and following a visit to Candlelighters, owners of Detectamet, Sean Smith and Angela Mousson, were determined to make a difference to our work. Detectamet, are a worldwide company, based near York, who m
St George's Day week-end was ...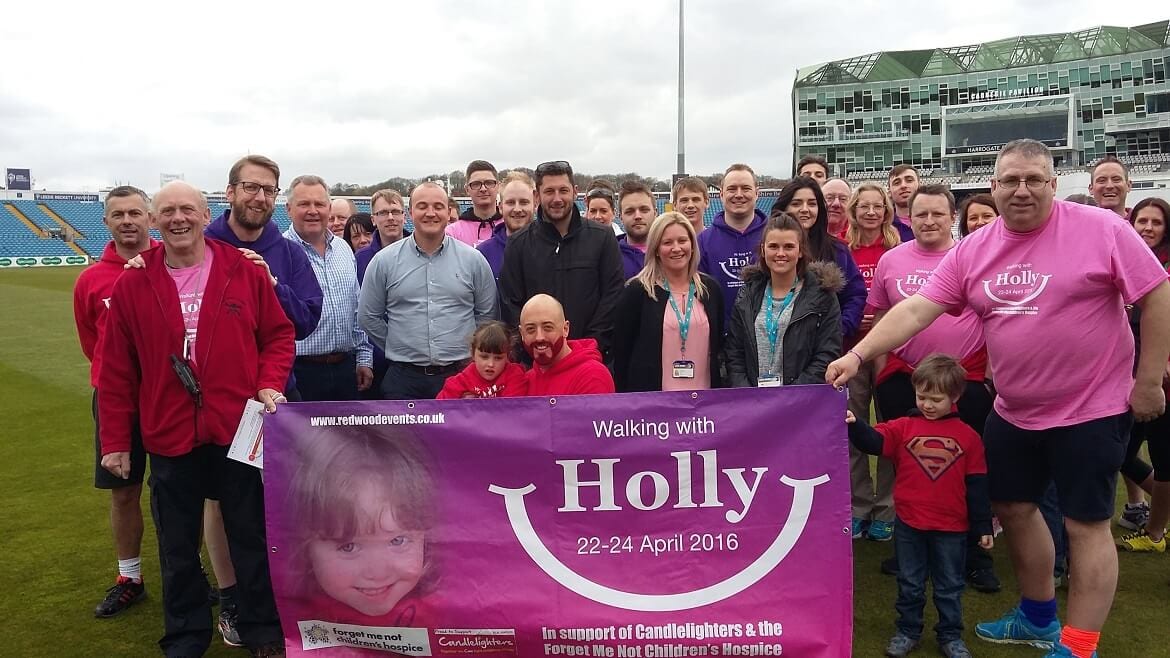 25-04-16
•
Our stories
• Posted by
It's been a busy and brilliant week-end for supporters and staff at Candlelighters! The Square was hosting an activity day for brothers and sisters of patients. Gareth Price, with family, friends and work colleagu
Your
stories
Vista support The Candlelighters Aw...
06-05-16
•
Your stories
• Posted by
A Partnership to help raise awareness and recognition of children's cancer in Yorkshire BY WILLIAM SUTTON – Director of Operations at Vista At the end of 2015 the Vista team decided that they wanted to nomin
Fundraising event sees Menston spar...
29-04-16
•
Your stories
• Posted by
This month a fundraising evening event has seen Menston sparkle in pink for Candlelighters, raising over £2000 to support the charity's work! Organised by Michelle Pattison, mum to 8 year old patient Owen, the
Three Wishes Charity Dinner
29-04-16
•
Your stories
• Posted by
Late last year supporters flocked to Harrogate's Restaurant Bar & Grill for a night of food, entertainment and a charity auction in aid of three local charities; Candlelighters, Theas Trust and Martin House Chi
Friendly Competition & Fundraising
28-04-16
•
Your stories
• Posted by
Staff at Pure Data Solutions are extra motivated to raise funds for Candlelighters! Last year, Pure Data Solutions raised £10,000 in aid of Candlelighters. This year, they aim to smash this. The first of their challenge
Summit Amazing!
28-04-16
•
Your stories
• Posted by
On Saturday 16th April 2016, a determined family group took on the Yorkshire 3 Peaks to raise awareness around Neuroblastoma, and nearly £2000 sponsorship for Candlelighters, in memory of  Pierce White Carter. Dom Whit
Leeds College of Art scores big for...
19-04-16
•
Your stories
• Posted by
Students and staff of Leeds College of Art scored big for Yorkshire families affected by childhood cancer at their fundraising football match on April 18th. It seemed the students were confident pre-match stating that
Miss North Yorkshire Champions Cand...
14-04-16
•
Your stories
• Posted by
Candlelighters were delighted earlier this year when the Miss North Yorkshire competition selected Candlelighters as their chosen charity for the second year running.   Miss North Yorkshire is the regions official and