Our supporters get their spook on!
Having been inspired by one of our families' stories, Louise Byrne and her family hosted a spooktacular Halloween party in support of Candlelighters.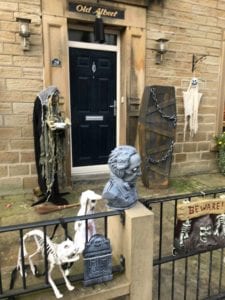 In less than a week, Louise and her family managed to pull together lots of ghostly bakes, a yard sale and even some ghastly entertainment!! Friends, family and the local community all attended, with some guest appearances from scary ghosts, bony skeletons and the Ghostbusters themselves!
The evening raised an amazing total of £585 which will help Candlelighters continue to provide the amazing work we do, to children and families affected by childhood cancer across Yorkshire.
If Louise's party has inspired you, why not start planning yours for next year!
You might also
like...
13 miles in memory of Thomas!
Our fantastic supporter Carly rallied 35 friends and family members to take on a 13 mile walk from Saltaire to Leeds on what would have been her sons 13th birthday. Thomas, who was diagnosed in March 2011, sadly passed away aged 5 years old on the 20th April 2012 from Neuroblastoma. Carly arranged the special …
Team Rueben launches!
Rueben's mum very sadly passed away from cancer nearly 3 years ago at the young age of 33. Following this tragic news, on the 30th May 2019 doctors found a sizeable mass on the right hand side of Rueben's brain which was found to be a high graded cancerous tumour. Rueben was taken for brain …
Our Company of the Month is… The Pure Technology Group!
Our very first 'Company of the Month' award goes to The Pure Technology Group, who this month celebrate donating £75,000 to Candlelighters. We have been so lucky to partner with The Pure Technology Group for 5 years and are just consistently amazed at the passion, commitment and support of their whole team to help Candlelighters …