Our supporters get their spook on!
Having been inspired by one of our families' stories, Louise Byrne and her family hosted a spooktacular Halloween party in support of Candlelighters.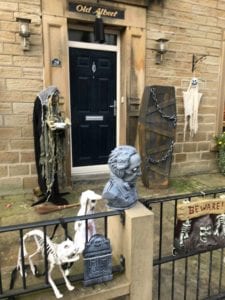 In less than a week, Louise and her family managed to pull together lots of ghostly bakes, a yard sale and even some ghastly entertainment!! Friends, family and the local community all attended, with some guest appearances from scary ghosts, bony skeletons and the Ghostbusters themselves!
The evening raised an amazing total of £585 which will help Candlelighters continue to provide the amazing work we do, to children and families affected by childhood cancer across Yorkshire.
If Louise's party has inspired you, why not start planning yours for next year!
You might also
like...
Memories of Candlelighters: Amy
As we celebrate our 45th birthday this year, we've been talking to people with memories of Candlelighters through the years. Amy, now 38, from Wakefield, was diagnosed with acute lymphoblastic leukaemia in 1995, aged 12. Amy particularly remembers some of the events and holidays provided by Candlelighters when she was on treatment, as well as …
Candlelighters at UoL Fertility Research
We are excited to share the results of a new piece of research by Candlelighters undertaken at the University of Leeds. As well as supporting families daily through childhood cancer, we bring hope by investing in vital research to improve the outcomes and lives of children with cancer. For nearly 40 years we have invested …
Candlelighters at 45 – Research
Did you know over our 45-year history, we've been involved in many childhood cancer research programmes and projects? In the last 20 years alone, we've invested over £9m into research to improve the lives and outcomes of children with cancer. In 1992, Professor Sue Burchill became the first scientist to be fully funded by Candlelighters …