Candlelighters In Your Community
Why was Candlelighters in Your Community introduced?

At Candlelighters, we are always looking at new ways to support our families. In 2019 Candlelighters conducted a research project with families and professionals to see how we could further expand our support services. We found that families felt increasingly isolated when they returned home from hospital or after a bereavement, and they wanted more support closer to home.

We want our families to know that Candlelighters' support is here for them for as long as they need it. So, we have launched Candlelighters in Your Community to ensure families feel well supported across Yorkshire, no matter the distance.

A team of Candlelighters community support workers are based in communities across Yorkshire providing all of our support services to families at home and in their local area.

How does Candlelighters in Your Community benefit families?

Candlelighters in Your Community aims to reduce the barriers that some families face when trying to access support and makes our services more accessible to all families across Yorkshire. Our Community Support Team work flexibly to ensure families have the support they need when they need it most.

This support can take many forms:
1-1 support to assess a family's needs - this could be a phone call, email or in-person to discuss any emotional, practical or financial support.
Walks & talks in local areas with other families affected by childhood cancer.
Wellbeing Days where families can book a massage or relaxation treatment.
Groups and events for all family members, allowing them to meet others on a similar journey.
Fundraising advice
Introduction to other charities and organisations
These support services aim to reduce isolation, allow families to meet others affected by childhood cancer and take the services offered at The Square across Yorkshire. Whatever type of support families need, they will be sure to meet a friendly face who will do their best to help them.
How can families access community support?

Candlelighters have Community Support Workers who cover all areas of Yorkshire. To find out more about the Community Support Worker for your area, email us at community@candlelighters.org.uk.
Alternatively, families can speak to their Social Worker or Outreach Nurse, who will put them in touch with the team.

A Community Support Worker will contact a newly diagnosed family once they have received their new patient grant from Candlelighters. An email will be sent out to families with an introduction from the Community Support Worker, detailing what support they can provide and how families can access it.
Our
stories
Participants needed for rhabdomyosarcoma research
10-06-22
•
Our stories
• Posted by
Our friends at Children's Cancer and Leukaemia Group (CCLG) are funding a study to help understand decision-making for relapsed and refractory rhabdomyosarcoma. Researchers including Dr Bob Phillips and Dr Jess Morgan are looking for parents or carers of children and young people with relapsed or refractory rhabdomyosarcoma, or young people themselves, to have one telephone …
Company of the Month… Oakwood Garden Rooms!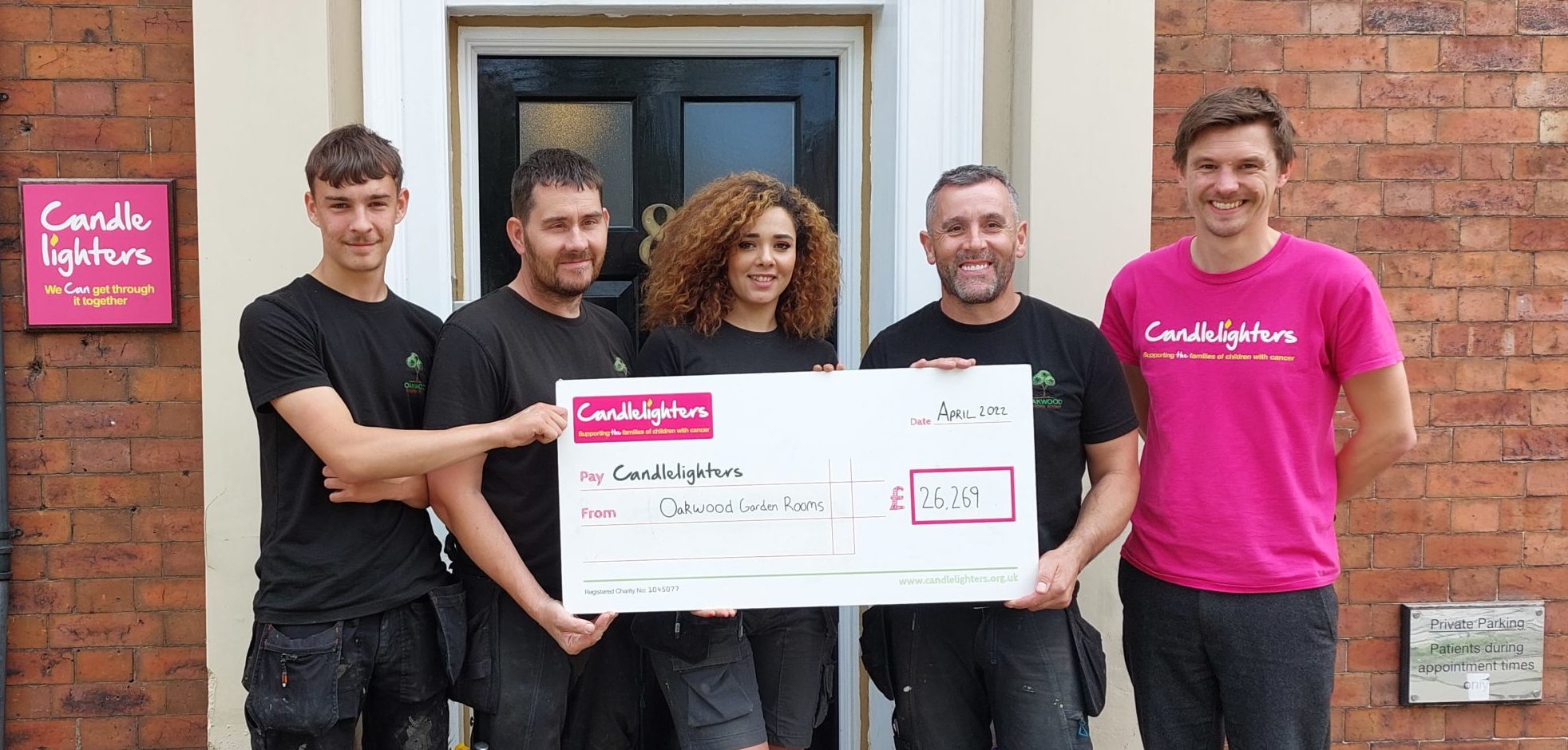 26-05-22
•
Our stories
• Posted by
We're absolutely thrilled to announce our Company of the Month for April 2022 is Oakwood Garden Rooms! Leeds-based Oakwood Garden Rooms have been supporting Candlelighters as their charity of choice since December 2020. In this time, they have raised an absolutely incredible amount for Candlelighters through some fantastic online raffles. Owner Liam Griffin and the …
Childhood Cancer Outcomes Westminster Debate – April 2022
06-05-22
•
Our stories
• Posted by
We are so pleased that on Tuesday 26th April, the first-ever Westminster debate on Childhood Cancer Outcomes was held. It was led by MP Caroline Dineage whose constituent Sophie Fairall died last September at the age of ten following a diagnosis of rhabdomyosarcoma. Caroline said, "Childhood cancer is often referred to as rare, but it is the …
Company of the Month… Mowgli!
28-04-22
•
Our stories
• Posted by
We're super excited to announce our Company of the Month for March 2022 is Mowgli Street Food! Mowgli started supporting Candlelighters in early 2020 after the opening of their Leeds restaurant. They put in place a cause-related marketing agreement, encouraging customers to add a £1 donation to their bill in support of Candlelighters. This simple …
Company of the Month… Katchr!
24-03-22
•
Our stories
• Posted by
We're so pleased to announce that our Company of the Month for February 2022 is Law Firm Business Intelligence Software company, Katchr! Katchr have supported Candlelighters since 2020 and have got involved with a wide range of fundraising activities to help our children and families. Katchr said, 'Our involvement with Candlelighters started two years ago …
Candlelighters to invest £1m in supportive care research
17-03-22
•
Our stories
• Posted by
We are thrilled to announce that we're planning to invest up to £1m to further supportive care research for children and young people with cancer. At Candlelighters, we have been investing in childhood cancer research for over 40 years. When Candlelighters was formed in the 1970s, sadly very few children survived. Now, thanks to scientific …
Company of the Month… Frontline Security Services and Platinum Asset Protection!
25-02-22
•
Our stories
• Posted by
Taking the crown this month is Frontline Security Services and Platinum Asset Protection – two companies owned by Wade Murtaza, who has been supporting Candlelighters for over a decade with cause-related marketing and by donating a percentage of both companies' end-of-year annual profits. In January 2022, Wade and these two companies made an incredible combined donation of …
Leading the way in childhood cancer research across the country
15-02-22
•
Our stories
• Posted by
15th February is International Childhood Cancer Day, a global collaborative campaign raising awareness of and expressing support for children and families affected by childhood cancer. On this day, we're highlighting the importance of investing in research to help these children and families. Around 1,800 children are diagnosed with cancer in the UK every year, with …
Company of the Month… Caddick Group!
01-02-22
•
Our stories
• Posted by
We are delighted to announce that our latest Company of the Month is the fantastic Caddick Group! The Caddick Group started to support Candlelighters back in 2018 in line with their charitable giving priorities of supporting children and young people, as well as those charities helping to fight cancer. Over the course of 2021 Caddick …
A Very Candlelighters Christmas
04-01-22
•
Our stories
• Posted by
As the festive period comes to an end and we enter another New Year, we think it's important to celebrate some of the things we've been able to achieve this Christmas. We know Christmas can be a difficult time for families, filled with many different feelings; our goal always is to ensure children and families …