Every day at Candlelighters we continue to be overwhelmed by the generosity and dedication of our supporters. We are lucky to work with a number of charitable trusts and foundations from Yorkshire and across the UK, who are vital in helping Candlelighters to deliver our mission of bringing light and hope to families facing childhood cancer. The difference that these grants have made, and continue to make, is truly life-changing: making the unbearable a little more bearable for ordinary families facing extraordinary circumstances.
Trusts and foundations can support Candlelighters through a variety of channels, from annual donations which are instrumental in helping us achieve our priorities as a charity, to working with us to fund a specific element of our family support or research projects.
Your Journey with Candlelighters
We want to build mutually beneficial partnerships with our supporters. Whether you want to fund a specific project or support our wider goals as a Charity, a dedicated member of our team will bring you detailed, personal reporting on the impact of your grant, bringing you even closer to the people you are supporting. We also love welcoming trusts and foundations to The Square, our family support centre, to see first-hand how their support is changing lives.
Who Supports Us?
The Kentown Wizard Foundation were one of the pivotal founding donors to the Candlelighters Cottage, which we bought and renovated to provide free 'home away from home' accommodation for families, located a stone's throw away from the Leeds Children's Hospital.
Without this accommodation, parents can be away from their child with cancer or siblings for extended periods of time. The Candlelighters Cottage enables families to stay together, helping to keep some kind of sense of normality at a time when it can feel like everything around them is falling apart.
Contact Us
We are always looking to develop new relationships with Trusts and Foundations that share our values. If you are involved with a Trust or Foundation and would consider supporting Candlelighters, please don't hesitate to get in touch. We would love the opportunity to meet or send you more information. Bernadette Sampson is our Philanthropy Specialist and looks after our brilliant Trust and Foundation supporters. You can contact Bernadette by emailing bernadette.sampson@candlelighters.org.uk
Our
stories
Participants needed for rhabdomyosarcoma research
10-06-22
•
Our stories
• Posted by
Our friends at Children's Cancer and Leukaemia Group (CCLG) are funding a study to help understand decision-making for relapsed and refractory rhabdomyosarcoma. Researchers including Dr Bob Phillips and Dr Jess Morgan are looking for parents or carers of children and young people with relapsed or refractory rhabdomyosarcoma, or young people themselves, to have one telephone …
Company of the Month… Oakwood Garden Rooms!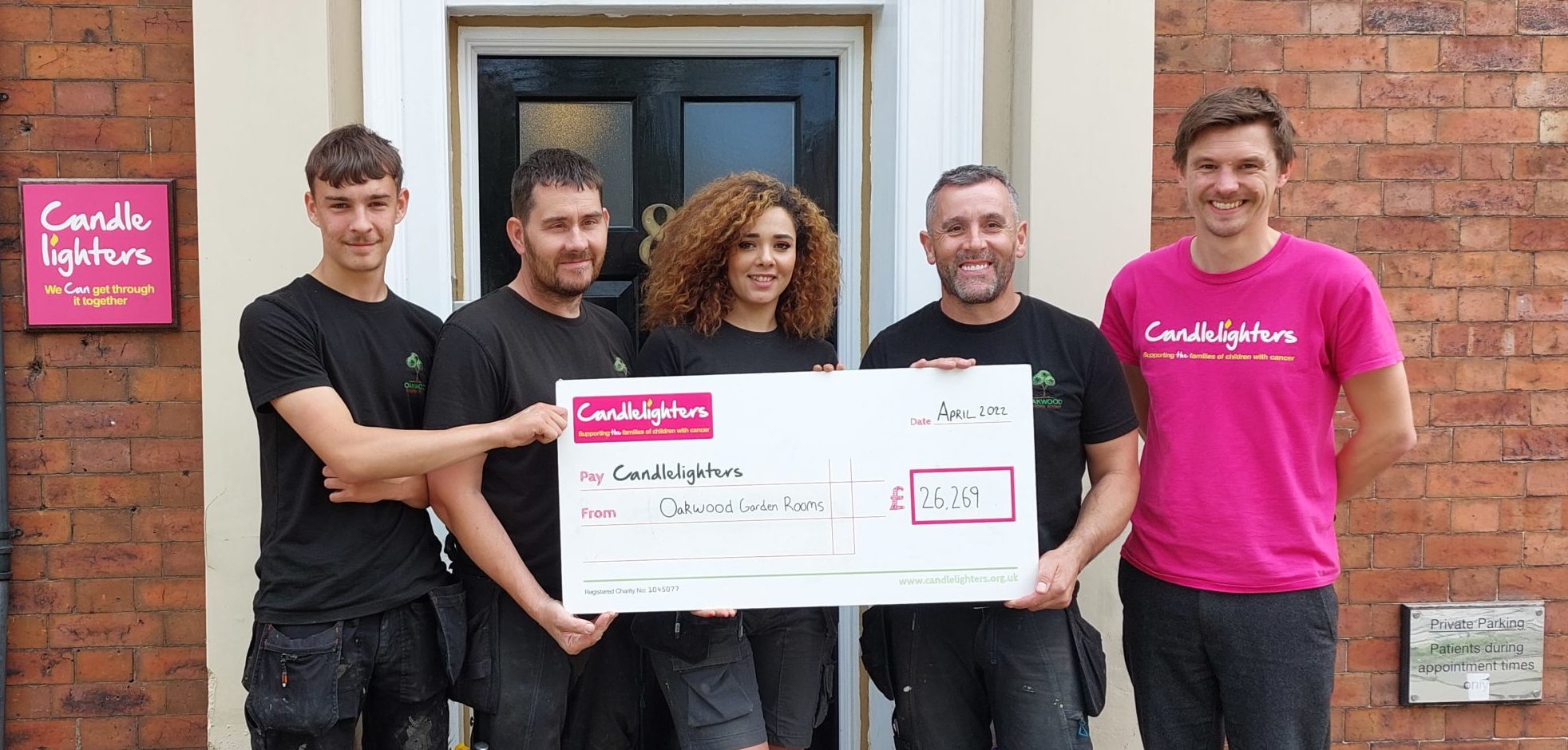 26-05-22
•
Our stories
• Posted by
We're absolutely thrilled to announce our Company of the Month for April 2022 is Oakwood Garden Rooms! Leeds-based Oakwood Garden Rooms have been supporting Candlelighters as their charity of choice since December 2020. In this time, they have raised an absolutely incredible amount for Candlelighters through some fantastic online raffles. Owner Liam Griffin and the …
Childhood Cancer Outcomes Westminster Debate – April 2022
06-05-22
•
Our stories
• Posted by
We are so pleased that on Tuesday 26th April, the first-ever Westminster debate on Childhood Cancer Outcomes was held. It was led by MP Caroline Dineage whose constituent Sophie Fairall died last September at the age of ten following a diagnosis of rhabdomyosarcoma. Caroline said, "Childhood cancer is often referred to as rare, but it is the …
Company of the Month… Mowgli!
28-04-22
•
Our stories
• Posted by
We're super excited to announce our Company of the Month for March 2022 is Mowgli Street Food! Mowgli started supporting Candlelighters in early 2020 after the opening of their Leeds restaurant. They put in place a cause-related marketing agreement, encouraging customers to add a £1 donation to their bill in support of Candlelighters. This simple …
Company of the Month… Katchr!
24-03-22
•
Our stories
• Posted by
We're so pleased to announce that our Company of the Month for February 2022 is Law Firm Business Intelligence Software company, Katchr! Katchr have supported Candlelighters since 2020 and have got involved with a wide range of fundraising activities to help our children and families. Katchr said, 'Our involvement with Candlelighters started two years ago …
Candlelighters to invest £1m in supportive care research
17-03-22
•
Our stories
• Posted by
We are thrilled to announce that we're planning to invest up to £1m to further supportive care research for children and young people with cancer. At Candlelighters, we have been investing in childhood cancer research for over 40 years. When Candlelighters was formed in the 1970s, sadly very few children survived. Now, thanks to scientific …
Company of the Month… Frontline Security Services and Platinum Asset Protection!
25-02-22
•
Our stories
• Posted by
Taking the crown this month is Frontline Security Services and Platinum Asset Protection – two companies owned by Wade Murtaza, who has been supporting Candlelighters for over a decade with cause-related marketing and by donating a percentage of both companies' end-of-year annual profits. In January 2022, Wade and these two companies made an incredible combined donation of …
Leading the way in childhood cancer research across the country
15-02-22
•
Our stories
• Posted by
15th February is International Childhood Cancer Day, a global collaborative campaign raising awareness of and expressing support for children and families affected by childhood cancer. On this day, we're highlighting the importance of investing in research to help these children and families. Around 1,800 children are diagnosed with cancer in the UK every year, with …
Company of the Month… Caddick Group!
01-02-22
•
Our stories
• Posted by
We are delighted to announce that our latest Company of the Month is the fantastic Caddick Group! The Caddick Group started to support Candlelighters back in 2018 in line with their charitable giving priorities of supporting children and young people, as well as those charities helping to fight cancer. Over the course of 2021 Caddick …
A Very Candlelighters Christmas
04-01-22
•
Our stories
• Posted by
As the festive period comes to an end and we enter another New Year, we think it's important to celebrate some of the things we've been able to achieve this Christmas. We know Christmas can be a difficult time for families, filled with many different feelings; our goal always is to ensure children and families …