We are delighted to announce The Property Buying Company as our Company of the Month for May!
The Property Buying Company began supporting Candlelighters in March 2020, with Chief Operating Officer, David Slater, deciding to undertake a mammoth fundraising challenge in aid of Candlelighters and Mind. Beginning on 10th March, David challenged himself to run 10k every day for 10 weeks, hoping to raise £10k to be split between the two charities.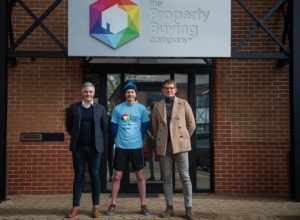 At Candlelighters we were so grateful to hear of David's significant commitment to supporting children with cancer, which stemmed from a close friend of his sadly losing their daughter to cancer a few years ago. We know how much of a difference fundraising like David's makes to families going through such an unimaginably difficult time, and really appreciate every penny raised.
The team at TPBC have been spurring him on, making a £1000 donation to his fundraising page and helping to spread the word of his amazing feat through the press and social media.
Incredibly, after the 10 weeks were up, David decided to continue his challenge and over the course of the next year, has huge fundraising plans including half marathons, 10ks, mountain challenges, on top of 'running, walking or kayaking' 5k a day too. We know just how much David has put into his challenges so far and we're so thankful for his determination and positive spirit – we're behind you all the way David and can't wait to see what you achieve!
You might also
like...
Candlelighters at UoL Fertility Research
We are excited to share the results of a new piece of research by Candlelighters undertaken at the University of Leeds. As well as supporting families daily through childhood cancer, we bring hope by investing in vital research to improve the outcomes and lives of children with cancer. For nearly 40 years we have invested …
Candlelighters at 45 – Research
Did you know over our 45-year history, we've been involved in many childhood cancer research programmes and projects? In the last 20 years alone, we've invested over £9m into research to improve the lives and outcomes of children with cancer. In 1992, Professor Sue Burchill became the first scientist to be fully funded by Candlelighters …
Company of the Month… Slumberdown!
We're pleased to announce that our August Company of the Month is Slumberdown! Slumberdown have supported Candlelighters since early 2021 when they initially joined our Team 500 – helping to bring in vital funds needed to continue our services through the COVID-19 pandemic. Since then, Slumberdown have been keen supporters, using and sharing their resources …