We are delighted to announce The Property Buying Company as our Company of the Month for May!
The Property Buying Company began supporting Candlelighters in March 2020, with Chief Operating Officer, David Slater, deciding to undertake a mammoth fundraising challenge in aid of Candlelighters and Mind. Beginning on 10th March, David challenged himself to run 10k every day for 10 weeks, hoping to raise £10k to be split between the two charities.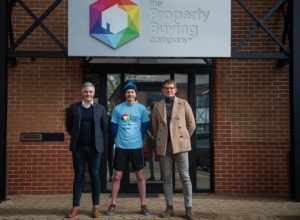 At Candlelighters we were so grateful to hear of David's significant commitment to supporting children with cancer, which stemmed from a close friend of his sadly losing their daughter to cancer a few years ago. We know how much of a difference fundraising like David's makes to families going through such an unimaginably difficult time, and really appreciate every penny raised.
The team at TPBC have been spurring him on, making a £1000 donation to his fundraising page and helping to spread the word of his amazing feat through the press and social media.
Incredibly, after the 10 weeks were up, David decided to continue his challenge and over the course of the next year, has huge fundraising plans including half marathons, 10ks, mountain challenges, on top of 'running, walking or kayaking' 5k a day too. We know just how much David has put into his challenges so far and we're so thankful for his determination and positive spirit – we're behind you all the way David and can't wait to see what you achieve!
You might also
like...
Company of the Month… Oakwood Garden Rooms!
We're absolutely thrilled to announce our Company of the Month for April 2022 is Oakwood Garden Rooms! Leeds-based Oakwood Garden Rooms have been supporting Candlelighters as their charity of choice since December 2020. In this time, they have raised an absolutely incredible amount for Candlelighters through some fantastic online raffles. Owner Liam Griffin and the …
Childhood Cancer Outcomes Westminster Debate – April 2022
We are so pleased that on Tuesday 26th April, the first-ever Westminster debate on Childhood Cancer Outcomes was held. It was led by MP Caroline Dineage whose constituent Sophie Fairall died last September at the age of ten following a diagnosis of rhabdomyosarcoma. Caroline said, "Childhood cancer is often referred to as rare, but it is the …
Company of the Month… Mowgli!
We're super excited to announce our Company of the Month for March 2022 is Mowgli Street Food! Mowgli started supporting Candlelighters in early 2020 after the opening of their Leeds restaurant. They put in place a cause-related marketing agreement, encouraging customers to add a £1 donation to their bill in support of Candlelighters. This simple …