Young friends Freddie, Charlotte and Tom have raised an incredible £14,811.83  for Candlelighters in an epic challenge event held over the Christmas period.
After their friend Elliott was diagnosed with an incurable tumour in September 2014, the trio were quick to get together and find a way to raise some money for Candlelighters.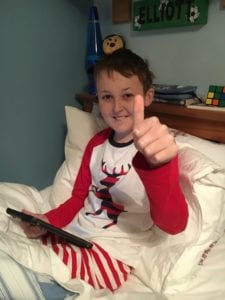 Before Elliott's initial diagnoses he was a fantastic swimmer which is what led Elliott to think of and settle on their challenge. Over the Christmas break, Freddie, Charlotte and Tom swam 1,344 lengths of the pool at Energise Leisure Centre in York, each completing an average of 2.3 miles per day.
Elliott said it was "an awesome achievement" for the three of them and Elliott's mum added, "We are overwhelmed by the generosity of people and the money raised will certainly have a positive impact on many families going through the rigours of cancer treatment for a child or teen in the region. Elliott and Freddie have been friends all their lives and Freddie's idea for the charity swim is such a mature and generous way of channelling his emotions through this difficult time."
Candlelighters are amazed by the amount that has been raised and would like to say a massive thank you to Freddie, Charlotte and Tom. Your dedication and effort is incredible and you should be very proud of yourselves.
You might also
like...
Memories of Candlelighters: Amy
As we celebrate our 45th birthday this year, we've been talking to people with memories of Candlelighters through the years. Amy, now 38, from Wakefield, was diagnosed with acute lymphoblastic leukaemia in 1995, aged 12. Amy particularly remembers some of the events and holidays provided by Candlelighters when she was on treatment, as well as …
Candlelighters at UoL Fertility Research
We are excited to share the results of a new piece of research by Candlelighters undertaken at the University of Leeds. As well as supporting families daily through childhood cancer, we bring hope by investing in vital research to improve the outcomes and lives of children with cancer. For nearly 40 years we have invested …
Candlelighters at 45 – Research
Did you know over our 45-year history, we've been involved in many childhood cancer research programmes and projects? In the last 20 years alone, we've invested over £9m into research to improve the lives and outcomes of children with cancer. In 1992, Professor Sue Burchill became the first scientist to be fully funded by Candlelighters …