G-Wu Restaurant Bar Takeaway is a collaboration between two sisters, Mel and Jade, who between them have more than 25 years experience in the industry.
Every year, G-WU holds a charity dinner in aid of Candlelighters where guests pay £10 for a ticket in exchange for a fantastic four-course meal bursting with authentic, contemporary Chinese flavours.
The team at G-Wu have been holding their annual dinner for Candlelighters since 2014 and have raised a whopping £6026.56 in total! On Tuesday 14th November, they will be doing it all again and holding their charity dinner evening from 5pm-11pm. The night is one of the busiest and most popular in their calendar, so guests are kindly asked to keep their dining to an hour and a half, to allow as many diners to fit in as possible. Don't worry though, you can head downstairs to their bar to continue enjoying the atmosphere with your family and friends!
Mel, restaurant owner commented saying, "We chose Candlelighters because we wanted to contribute directly to the local community and we have always found the charity to be very well organised and a delight to work with".
The Candlelighters team will certainly be attending the feast and we would love it if you would join us! If you are interested in buying a ticket please email [email protected] or call 0113 2370034 and we hope to see you there on the night!
We would like to thank the hard work and effort put in by G-Wu to support Candlelighters, the money raised is going to make a huge difference to families facing childhood cancer across Yorkshire.
We are recalling all of our collection tins so we can gather the old pound coins from them before they go out of circulation!
If you return your collection tin with the old pound coins in it, you can have a brand new empty one from us. This exchange means we can cash in all the old pounds that have been donated, before it's too late, and you will get a fresh new tin!
To return a tin you can bring it in to The Square:
Candlelighters, 8 Woodhouse Square, Leeds, LS3 1AD
Alternatively, we can send you a paying in slip and you can take the cash to your local Yorkshire Bank.
If you would like to arrange an alternative method of returning, please contact us:
Email: [email protected]
Phone: 0113 3229283
We are aiming to gather all of the tins that are out and about before the end of August, so please be sure to notify us once you have returned yours.
If you do not have a collection tin but would like one, please contact the details above and we can arrange to have one sent out to you.
Friday 9th September 2016 saw the inaugural Candlelighters Awards, to celebrate the people who help us shine brighter.
It was a fantastic emotive afternoon, hosted by Emmerdale's Matt Wolfenden, bursting with fantastic stories of how our supporters have tirelessly trekked, climbed, run, collected, volunteered and gone above and beyond for Candlelighters in 2015/6.
As Chair of the Trustees, Stephen Redman, said, everyone who had been nominated deserved an award. Here are the winners:
Team Effort of the Year: Team Olivia Weston
Team Olivia Weston, made up of Maryellen Jaques, Gemma Weston and Amanda Varley (as well as an army of family and friends!), has raised over £25,000 for Candlelighters in 2015/6 through their dedicated organisation of various events, such as a Family Day, Craft Fair, Fashion Show, a skydive, the Three Peaks challenge and a head shave.
Above and Beyond Effort of the Year: Bill Desmond
Bill has been collecting for Candlelighters for over thirty years now through distributing empty whisky bottles and collecting them when members of the local community fill them up with spare change. Each bottle holds an average of £200 and Bill has collected thousands over the years. His impact on the charity has been immense, and he's still collecting now at the age of 82.
Weird and Wonderful Idea of the Year: Benidorm or Bust
This team of five decided to fundraise in true British spirit in the year that the Queen turned 90 by dressing up as her Majesty, Prince Philip, two beefeater guards and a bodyguard… and driving 1600 miles to Benidorm from Leeds in a battered old Jag. The team stopped off along the way at every opportunity to get out the red carpet and perform opening ceremonies. It was a truly hilarious idea, and a rewarding one as well, as the team have raised over £2500 for Candlelighters from this completely self-funded trip.
Young Fundraiser of the Year: Kai Sunley
Due to the effects of his treatment, Kai, a cancer survivor, took a gap year inbetween GCSEs and college, and dedicated his spare time to raising funds for Candlelighters. In February, he climbed to the top of Kilimanjaro (where he was the only person in his group of 50 to make it to the summit). This trip was funded entirely by Kai who worked at the Harrogate Holiday Inn to make sure he could go, and he raised an amazing £1760.
Company of the Year: Pure Data Solutions
The team at Pure Data have raised funds through event after event since 2015, including the Great North Run, Leeds Half Marathon, the Three Peaks Challenge and through climbing Snowdon. Additionally, staff members have kindly donated money from their salaries every month as well as participating in these events. So far, they have raised an amazing £12 000. On top of this, the company have sponsored the 2016-17 salary of our dinner lady, Elaine, who plays a vital part in catering for the needs of children going through treatment.
Company Colleague of the Year: Ruth Wilson- Dean's Garden Centre
Ruth was nominated by a customer at Dean's Garden Centre who was astounded by the work that she has done for Candlelighters over the years. Dean's Garden Centre have supported us since 2015 and Ruth's hard work has been highly appreciated.
Event of the Year: Michelle Pattison's Pink and Sparkle
Michelle's eight year old son Owen is currently on treatment and she decided to support Candlelighters by organising a fabulous Pink and Sparkle event in Menstone in April. Fun was had by all, when people gathered to drink, eat and bid on a range of action prizes. To top it off, the entertainment was provided by drag act Miss Syren! The event raised over £2000 for Candlelighters.
Volunteer of the Year: Allison Piggott
Allison has been volunteering for Candlelighters for over three years now, primarily at the Candlelighters Family Christmas Party where she dresses up to entertain the families. Throughout the year, she works tirelessly to secure brilliant raffle prizes and always brings lots of fun and laughter to the event.
Fundraiser of the Year: Mark Gallimore
Mark has taken on challenge after challenge to raise money for Candlelighters, to mark the third year of his son George's treatment. Whether it was an overnight walk from Leeds to Sheffield, a 40 ft abseil, the Yorkshire Three Peaks, a Total Warrior race or a (upcoming!) Fire Walk, Mark has done it- and more!
It was also great to celebrate two special awards for Outstanding Contribution to Fundraising over the last 40 years, which were presented to the committees of Harrogate and Ilkley Candlelighters, by our Patron, Lady Emma Ingilby.
Thank you to all our judges, sponsors, guests and, of course, the wonderful nominees, for making this such a special occasion.
This September Candlelighters is holding its very first Awards ceremony recognising the people of Yorkshire in their support of Candlelighters. The Awards, in association with Vista, are in the last week of welcoming award nominations as the panel will begin deliberations from Monday 4th July.
The event, taking place on September 9th is already well supported with headline support from Vista and also Award categories being sponsored by the likes of Town Centre Securities, MWA Associates and Brewin Dolphin to name a few.
Kate Goldring, Fundraising Manager for the charity said "We are thrilled with the nominations we have received so far but we don't want anyone to miss out on their chance to give someone the recognition they deserve. Candlelighters has some incredible supporters and we are really looking forward to the chance to celebrate all they do for us."
The dinner falls in Children's Cancer Awareness Month, an international event to raise awareness of children's cancer globally. Leeds is the home to Candlelighters, a charity that has been supporting children fighting cancer and their families, across Yorkshire, for over 40 years.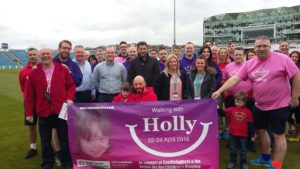 James Wilkins, Managing Director of Vista explained their support of the charity. "Our team chose Candlelighters as their charity of the year and we're delighted to be supporting them with their very first Candlelighters Awards this year. We work with global brands to increase awareness and engagement so helping Candlelighters propel their brand awareness in the region, along with the important research and therapeutic support they fund, is something the whole team are really excited about."
The event will take place at the Centenary Pavilion at Elland Road on September the 9th. Tickets are available for the afternoon event which includes a three course meal, welcome drink and the awards itself.  Simply visit http://www.candlelighters.org.uk/shop/events/awards/ to secure your table.
Sponsorship opportunities are also still available, contact Brian Curran on 0113 3229283 or [email protected]
To nominate visit www.candlelighters.org.uk/awards
On Saturday 16th April 2016, a determined family group took on the Yorkshire 3 Peaks to raise awareness around Neuroblastoma, and nearly £2000 sponsorship for Candlelighters, in memory of  Pierce White Carter.
Dom White, leading the group, said "During Pierce's two and a half years of illness, Candlelighters provided us all with support and supplied the hospital wards where he was receiving treatment with things to help keep the children entertained and their spirits up: games, books, jigsaws, games consoles, TVs, DVDs, toys – the list goes on.
What they do is fantastic as sometimes the children just need to feel like they have their home comforts. The Candlelighters go a massive way in helping to achieve that."
A huge thank you to Dom, Lucy and family for taking on this challenge in support of Candlelighters, and for their kind words about how they were helped through some really tough times.
If you have ever thought about walking the Yorkshire Three Peaks, what better way than to do it with the full support of Team Candlelighters? There are a few places available to join us at our event on Saturday 28th May 2016. Just click on this link to sign up:
http://www.maximumadventure.com/charity-events/candlelighters-yorkshire-3-peaks-challenge.html