We would love to share some of your stories whether they are about personal experiences on treatment, in fundraising, or anything else you would like to share. Send your stories and photos to info@candlelighters.org.uk. © Karen Turner Photography, header image.
Our
stories
A beautiful weekend for the Candlelighters family
09-05-16
•
Our stories
• Posted by
The sun was shining over us this weekend as events were held throughout Yorkshire and beyond! Fundraisers took part in challenges, cycling from Aberdeen to Bradford in memory of Candlelighters talking therapist Greg Vinnicombe, or running the Leeds Half Marathon for or in memory of a loved one. Other supporters waited for sunset, as ladies wore …
Candlelighters to be supported by Global's Make Some Noise
04-05-16
•
Our stories
• Posted by
Candlelighters has been selected as one of this year's beneficiaries to receive funding and support through Global's Make Some Noise. Founded in 1976 by families and medical staff, Candlelighters continues to help support children with cancer and their families across Yorkshire. They support work and equipment on the hospital wards, provide family support and fund …
Detectamet score a goal for Candlelighters
03-05-16
•
Our stories
• Posted by
Since July 2014, and following a visit to Candlelighters, owners of Detectamet, Sean Smith and Angela Mousson, were determined to make a difference to our work. Detectamet, are a worldwide company, based near York, who manufacture detectable food safety, office, sanitary and hygiene supplies. They asked wedding guests to donate to us instead of giving …
St George's Day week-end was event-full!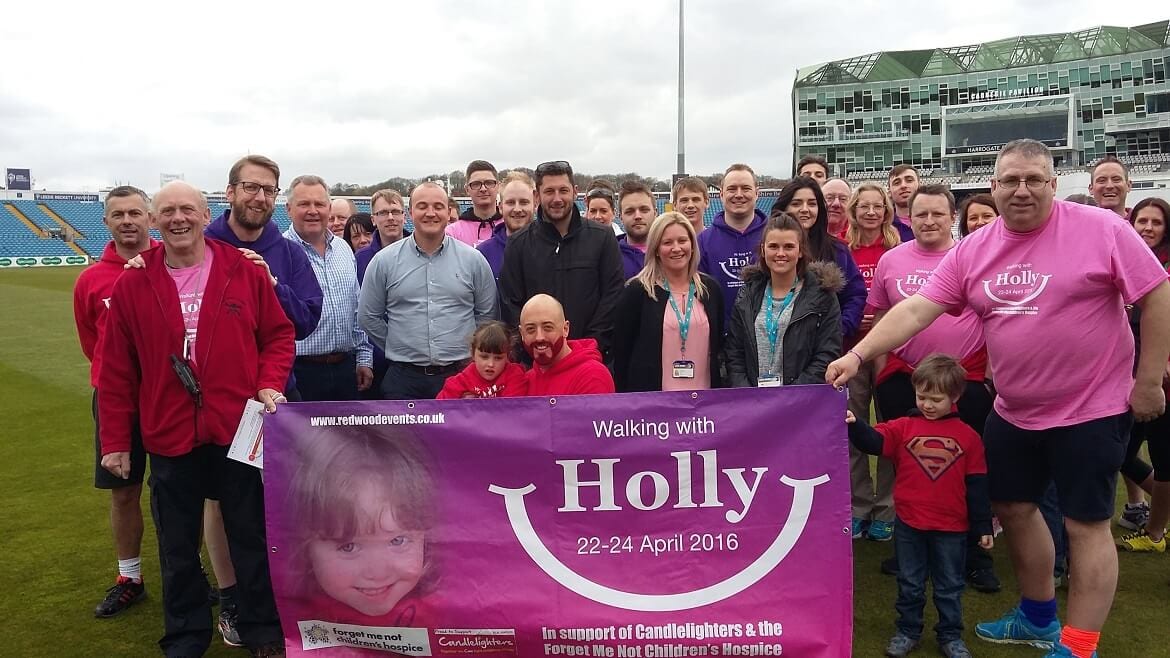 25-04-16
•
Our stories
• Posted by
It's been a busy and brilliant week-end for supporters and staff at Candlelighters! The Square was hosting an activity day for brothers and sisters of patients. Gareth Price, with family, friends and work colleagues completed a 138 mile sponsored walk in memory of his daughter Holly. Starting at Candlelighters on Friday and finishing at Forget Me …
Your
stories
A Right Royal Challenge
02-06-16
•
Your stories
• Posted by
What better way for the Queen to celebrate her 90th year than by racing from Leeds to Benidorm in a clapped out Jag? On 8th June "Liz and Phil", plus entourage, set off for Benidorm from Leeds. Their challenge was to travel the 1600 miles in 3 days, in a car that cost just over £100 each, …
Vista support The Candlelighters Awards
06-05-16
•
Your stories
• Posted by
A Partnership to help raise awareness and recognition of children's cancer in Yorkshire BY WILLIAM SUTTON – Director of Operations at Vista At the end of 2015 the Vista team decided that they wanted to nominate a charity of the year. It's extremely difficult to choose between the plethora of excellent causes out there, even just in …
Fundraising event sees Menston sparkle for Candlelighters
29-04-16
•
Your stories
• Posted by
This month a fundraising evening event has seen Menston sparkle in pink for Candlelighters, raising over £2000 to support the charity's work! Organised by Michelle Pattison, mum to 8 year old patient Owen, the Pink & Sparkle event was her biggest fundraising event to date and saw a small crowd gather to eat, drink and bid on a range …
Three Wishes Charity Dinner
29-04-16
•
Your stories
• Posted by
Late last year supporters flocked to Harrogate's Restaurant Bar & Grill for a night of food, entertainment and a charity auction in aid of three local charities; Candlelighters, Theas Trust and Martin House Children's Hospice. Organised by Rowan Brunger (pictured below at our support centre The Square), the event was a fantastic success raising a …
Friendly Competition & Fundraising
28-04-16
•
Your stories
• Posted by
Staff at Pure Data Solutions are extra motivated to raise funds for Candlelighters! Last year, Pure Data Solutions raised £10,000 in aid of Candlelighters. This year, they aim to smash this. The first of their challenge will be the Candlelighters Yorkshire 3 Peaks on Saturday 28 May. 11 staff from across the company are training …
Summit Amazing!
28-04-16
•
Your stories
• Posted by
On Saturday 16th April 2016, a determined family group took on the Yorkshire 3 Peaks to raise awareness around Neuroblastoma, and nearly £2000 sponsorship for Candlelighters, in memory of  Pierce White Carter. Dom White, leading the group, said "During Pierce's two and a half years of illness, Candlelighters provided us all with support and supplied the …