Every day at Candlelighters we continue to be overwhelmed by the generosity and dedication of our supporters. We are lucky to work with a number of charitable trusts and foundations from Yorkshire and across the UK, who are vital in helping Candlelighters to deliver our mission of bringing light and hope to families facing childhood cancer.  The difference that these grants have made, and continue to make, is truly life-changing: making the unbearable a little more bearable for ordinary families facing extraordinary circumstances.
Trusts and foundations can support Candlelighters through a variety of channels, from annual donations which are instrumental in helping us achieve our priorities as a charity, to working with us to fund a specific element of our family support or research projects.
Your Journey with Candlelighters
We want to build mutually beneficial partnerships with our supporters. Whether you want to fund a specific project or support our wider goals as a Charity, a dedicated member of our team will bring you detailed, personal reporting on the impact of your grant, bringing you even closer to the people you are supporting. We also love welcoming trusts and foundations to The Square, our family support centre, to see first-hand how their support is changing lives.
Who Supports Us?
The Kentown Wizard Foundation were one of the pivotal founding donors to the Candlelighters Cottage, which we bought and renovated to provide free 'home away from home' accommodation for families, located a stone's throw away from the Leeds Children's Hospital.
Without this accommodation, parents can be away from their child with cancer or siblings for extended periods of time. The Candlelighters Cottage enables families to stay together, helping to keep some kind of sense of normality at a time when it can feel like everything around them is falling apart.
Contact Us
We are always looking to develop new relationships with Trusts and Foundations that share our values. If you are involved with a Trust or Foundation and would consider supporting Candlelighters, please don't hesitate to get in touch. We would love the opportunity to meet or send you more information. Bernadette Sampson is our Philanthropy Specialist and looks after our brilliant Trust and Foundation supporters. You can contact Bernadette by emailing bernadette.sampson@candlelighters.org.uk
Our
stories
St George's Day week-end was event-full!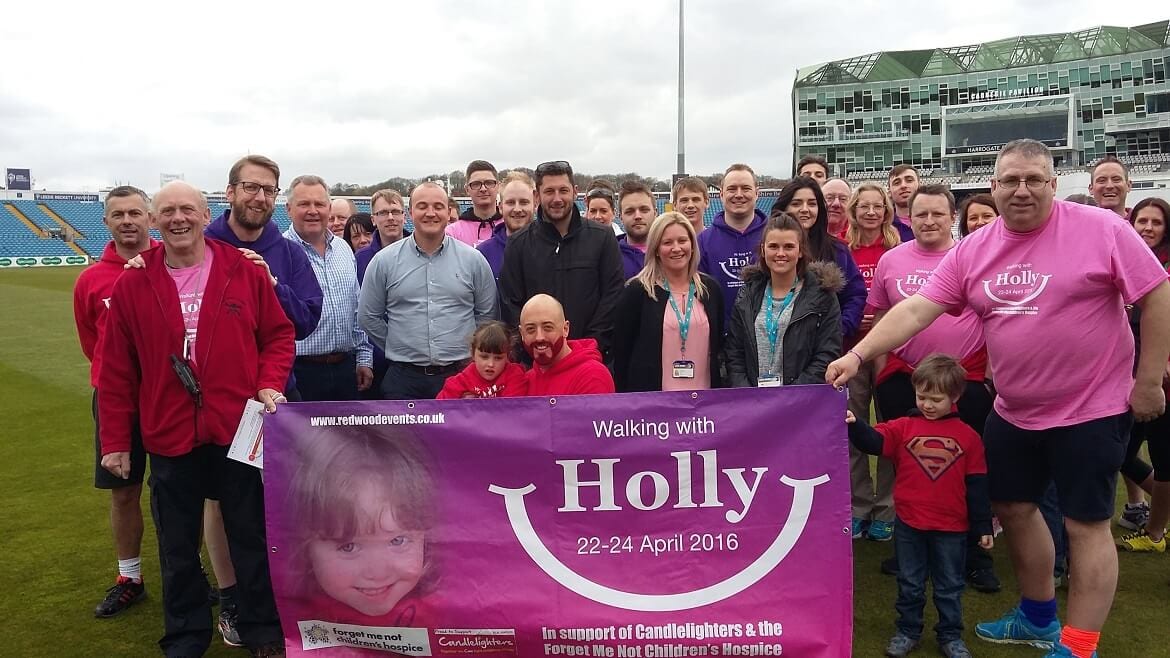 25-04-16
•
Our stories
• Posted by
It's been a busy and brilliant week-end for supporters and staff at Candlelighters! The Square was hosting an activity day for brothers and sisters of patients. Gareth Price, with family, friends and work colleagues completed a 138 mile sponsored walk in memory of his daughter Holly. Starting at Candlelighters on Friday and finishing at Forget Me …
Your
stories
Fundraising event sees Menston sparkle for Candlelighters
29-04-16
•
Your stories
• Posted by
This month a fundraising evening event has seen Menston sparkle in pink for Candlelighters, raising over £2000 to support the charity's work! Organised by Michelle Pattison, mum to 8 year old patient Owen, the Pink & Sparkle event was her biggest fundraising event to date and saw a small crowd gather to eat, drink and bid on a range …
Three Wishes Charity Dinner
29-04-16
•
Your stories
• Posted by
Late last year supporters flocked to Harrogate's Restaurant Bar & Grill for a night of food, entertainment and a charity auction in aid of three local charities; Candlelighters, Theas Trust and Martin House Children's Hospice. Organised by Rowan Brunger (pictured below at our support centre The Square), the event was a fantastic success raising a …
Friendly Competition & Fundraising
28-04-16
•
Your stories
• Posted by
Staff at Pure Data Solutions are extra motivated to raise funds for Candlelighters! Last year, Pure Data Solutions raised £10,000 in aid of Candlelighters. This year, they aim to smash this. The first of their challenge will be the Candlelighters Yorkshire 3 Peaks on Saturday 28 May. 11 staff from across the company are training …
Summit Amazing!
28-04-16
•
Your stories
• Posted by
On Saturday 16th April 2016, a determined family group took on the Yorkshire 3 Peaks to raise awareness around Neuroblastoma, and nearly £2000 sponsorship for Candlelighters, in memory of  Pierce White Carter. Dom White, leading the group, said "During Pierce's two and a half years of illness, Candlelighters provided us all with support and supplied the …
Leeds College of Art scores big for Candlelighters
19-04-16
•
Your stories
• Posted by
Students and staff of Leeds College of Art scored big for Yorkshire families affected by childhood cancer at their fundraising football match on April 18th. It seemed the students were confident pre-match stating that "after an intense pre-season, the students have become both physically and mentally strong enough to take on the very tutors that …
Miss North Yorkshire Champions Candlelighters
14-04-16
•
Your stories
• Posted by
Candlelighters were delighted earlier this year when the Miss North Yorkshire competition selected Candlelighters as their chosen charity for the second year running.   Miss North Yorkshire is the regions official and most prestigious modelling competition, offering contestants an experience of a life-time, a window into the world of modelling and the opportunity to make life long …
TEENAGE CANCER PATIENTS ABSEIL AT RIPLEY CASTLE
13-04-16
•
Your stories
• Posted by
On Sunday 24 April, three teenage cancer patients, will abseil down from Ripley Castle's roof in aid of the charity that has supported them and their families from day one, Candlelighters. Jodi Stonehouse, from Pocklington, and Caitlin Gott, from Harrogate, are both 15 and were diagnosed with Acute Lymphoblastic Leukaemia. Mia Addison, from Knaresborough, is …